We know you have a choice for hospice care.
 

As hospice professionals, we are honored to be invited into your home at such a sacred time.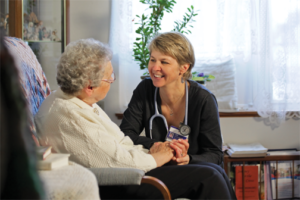 Home Hospice Care Serving Jackson and Josephine Counties
Call: 541-732-6500
Medical Director: Molly Gramley,MD
Hospice Director: Lorry Boone, Lorraine.Boone@providence.org
Click here to visit the Providence Home Services hospice page
Providence Hospice offers expert, compassionate care to people in the last six months of life when curative treatments are no longer effective or desirable. Our hospice services focus on comfort care and quality of life.
Complimentary Therapies: Music-Thanatology, Massage
Volunteer Support Services
Providing respite care
Visiting with the patient
Giving social support to the patient's loved ones
Helping to write a life review or recording an oral history
Writing letters or journal entries for the patient
Taking people to medical appointments
Preparing meals and assisting with feeding
Doing light household or yard chores
Providing child care
Running errands
Helping with pet care
Volunteer Opportunities
Contact Susan Cooper at 541-732-6532
Bereavement Support
Our Bereavement program supports grieving people as they cope with the loss of their loved ones.  This includes regular mailings and calls throughout the year following your loss.  Bereavement Support Group also available.